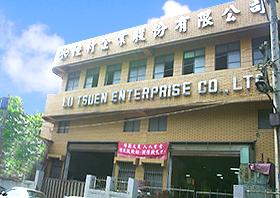 It has been more than twenty years since our company was established in 1978. Under the policy to have successive progress, our products have been acknowledged with high reputation and obtain public praise from the industrial field. With the praise as the motive force that keeps us growing stronger, it is our believe that we are able to offer better quality of products and better service to our customers.

Our cutters of various series are independently developed and manufactured, with the design by computer-aided software (AutoCAD, Solid works) and analyzed by analysis software (Visual Nastran Desktop). Than, with the aid of computer, we manufacture the parts that conform to all the requirements. By this way, our products is standardized, the production is automated on large scale. The quality of every processing detail is strictly controlled, which are approved by patents. In the respect of RD, we put great investment every year to renew and increase equipment to achieve better quality. In the latest two decades, we have developed more than 150 models of different specifications to meet the requirements of international market. It is our glory that several automatic models compete favorably with the ones of advanced countries.

The marketing strategy of our company is oriented by exportation. The whole procedure, from receiving orders, designing, manufacturing, delivering to after-sale service, is taken by the integrated link, in order to provide more warranty to our customers. In the international market (South-east Asia, North-east Asia, Mainland Chin, Europe and America, etc.), we have intense resource of customers located everywhere. Thanks to the extremely strict control of production, all the parts and accessories are standardized under normal specification and built according to the blueprint so that they can be easily exchanged, to elevate the parts performance and the machines can perform stably and elongate the use life.

Our objective is to serve sincerely, to work conscientiously, to manufacture professionally and standardizationally. To upgrade our industrial, we even tailor-make special orders to respond to the changing environment. Our achievement is recognized and trusted by worldwide customers, and we are moving forward and marching on to the level of global business. We cordially wish to have your continuous support and your precious opinions.